The Trustees of the Florence Museum are proud to present the 2017 Pee Dee Regional Art Competition sponsored by Chick-fil-A. The competition highlights the best contemporary art in the Pee Dee region. One of the state's oldest juried art competitions, the first Pee Dee Regional dates back to 1954 where the competition was held at the former Florence Museum on Spruce Street in Florence, South Carolina.
This year's exhibit is now open to the public and will remain on display through March 24, 2017 in the FCM Waters Gallery. Visitors are invited to inspect this year's selection and cast their vote for the Jo Ann Fender Scarborough People's Choice Award. Voting for the People's Choice Award will be open through Friday, March 10 with the winner being announced on Monday, March 20 via a press release and the museum's social media.
FCM Waters Gallery
135 South Dargan Street
Florence, South Carolina
Gallery Hours:
Monday – Friday
10:00am – 5:00pm
The Selection Process & Awards
Professional comic book artist and native of Kingstree, South Carolina, Sanford Greene served as the competition juror overseeing the selection of works and awards for this year's exhibition. First place in this year's competition was awarded to Yvette Cummings of Conway for her painting When the Magpie Came. The other award winners include second-place acrylic painting by Florence resident Debbie Broadway titled And So It Was and third place Apprehensive Love by Myrtle Beach artist, Ashley Arakas. The honorable mention was awarded to the watercolor titled, Through the Eyes of a Child by Lynda English of Florence.
The exhibit this year is composed of 34 works of art selected from 119 online submissions by 57 artists representing northeastern South Carolina. This year's exhibit is comprised from a balanced variety of paintings, mixed media, prints, drawings, photography and three-dimensional works.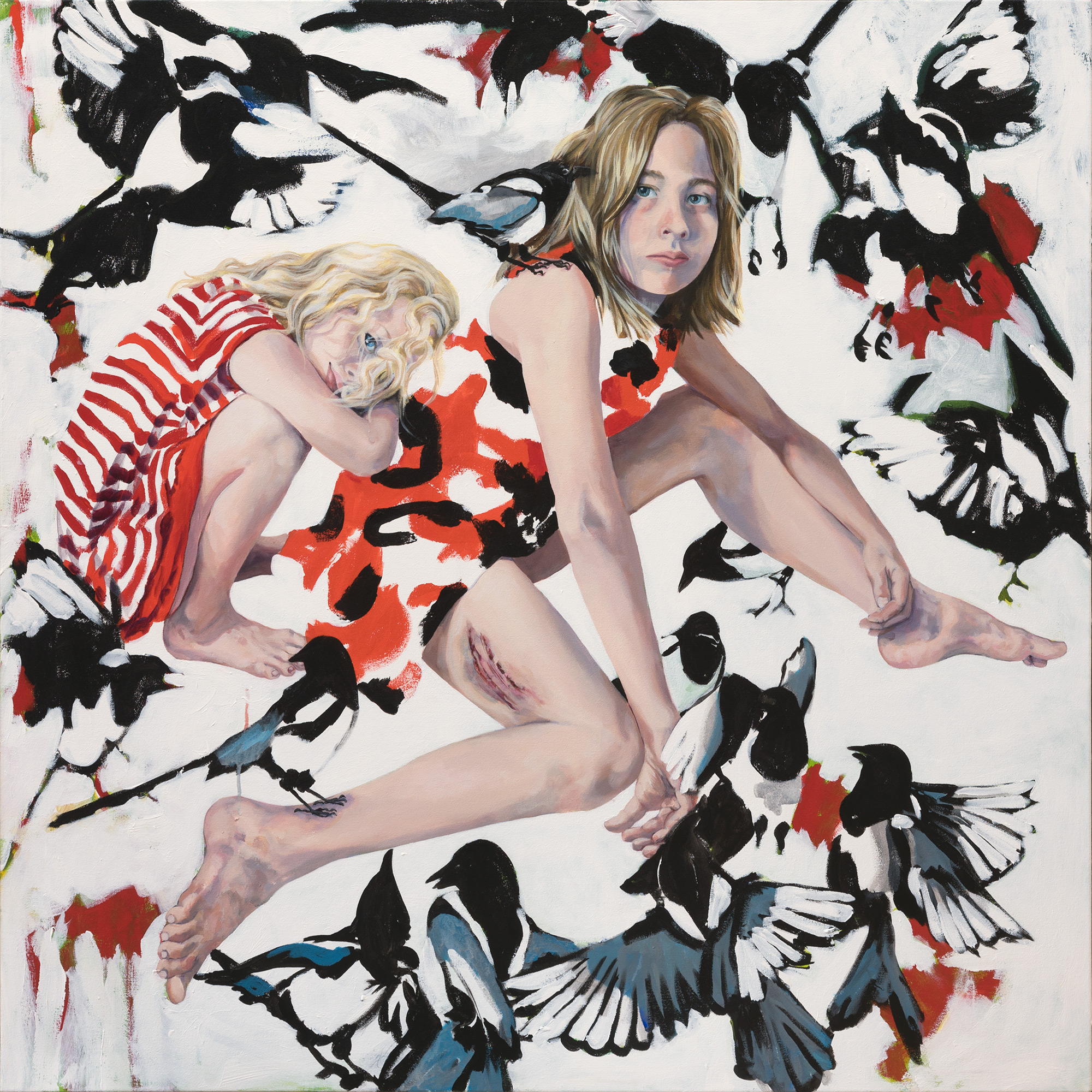 Yvette Cummings
Conway, SC
When the Magpie Came
Acrylic on Canvas
See our blog for an interview with Yvette L. Cummings.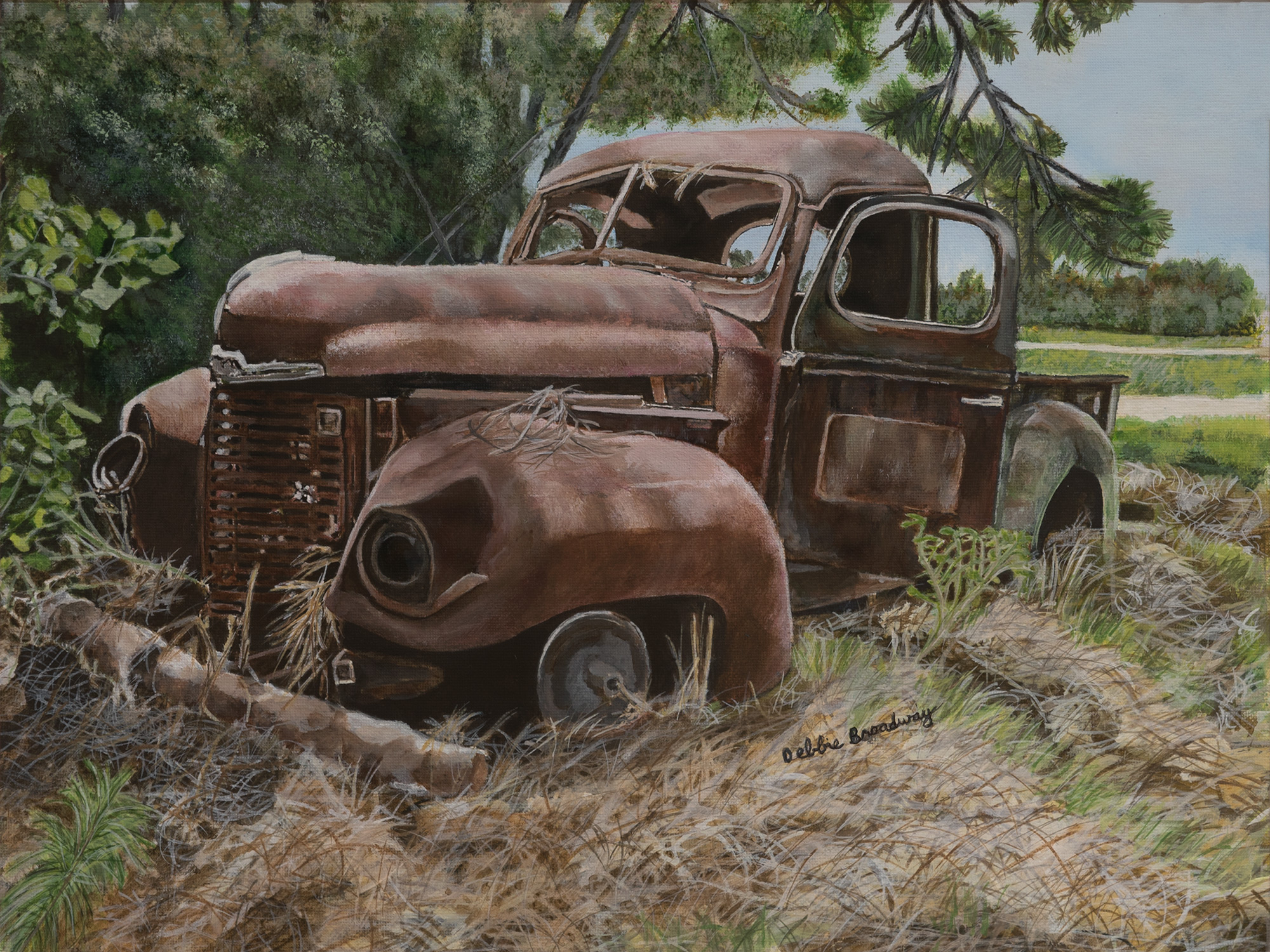 Debbie Broadway
Florence, SC
And So It Was
Acrylic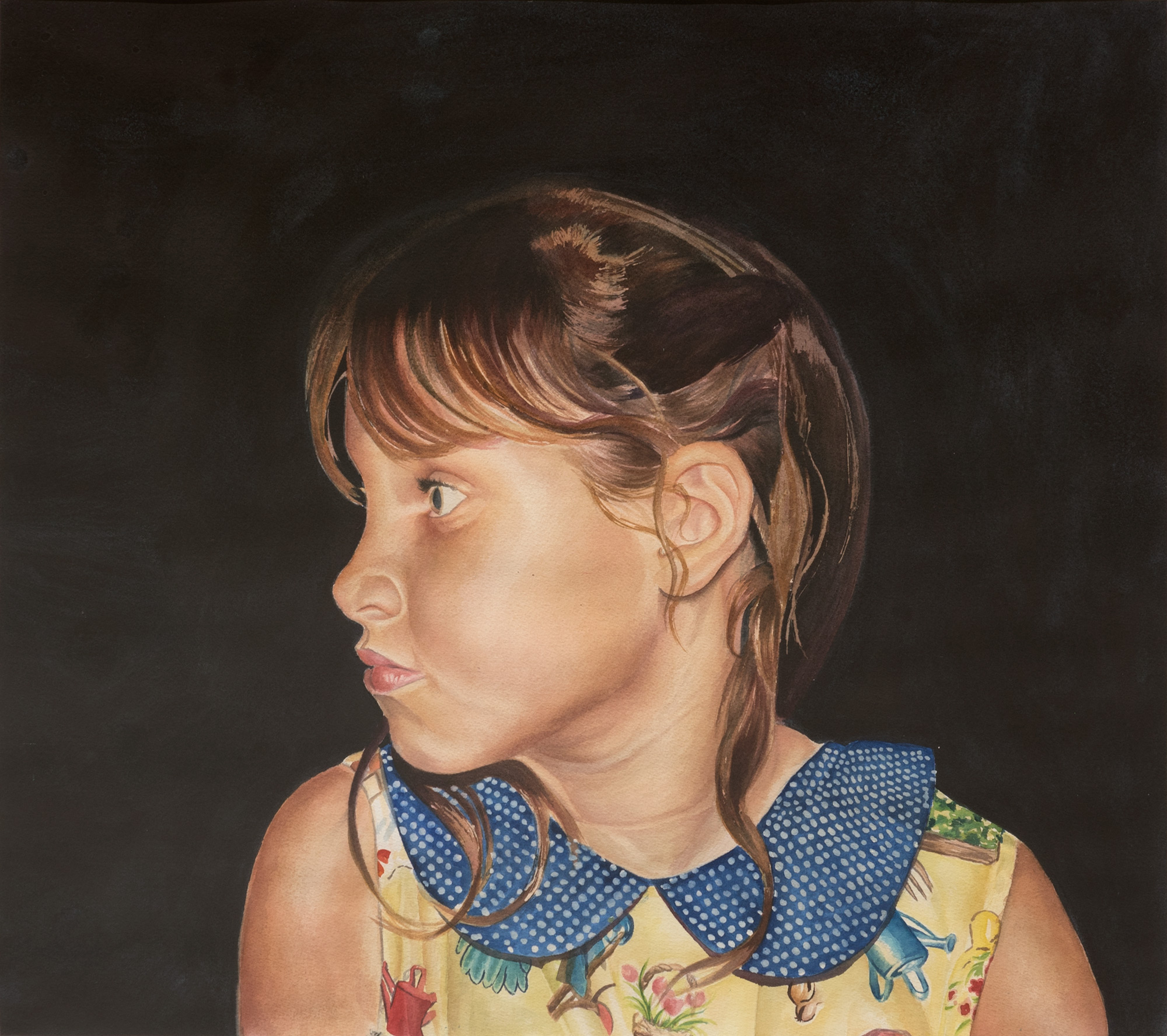 Ashley Arakas
Myrtle Beach, SC
Apprehensive Love
Watercolor on paper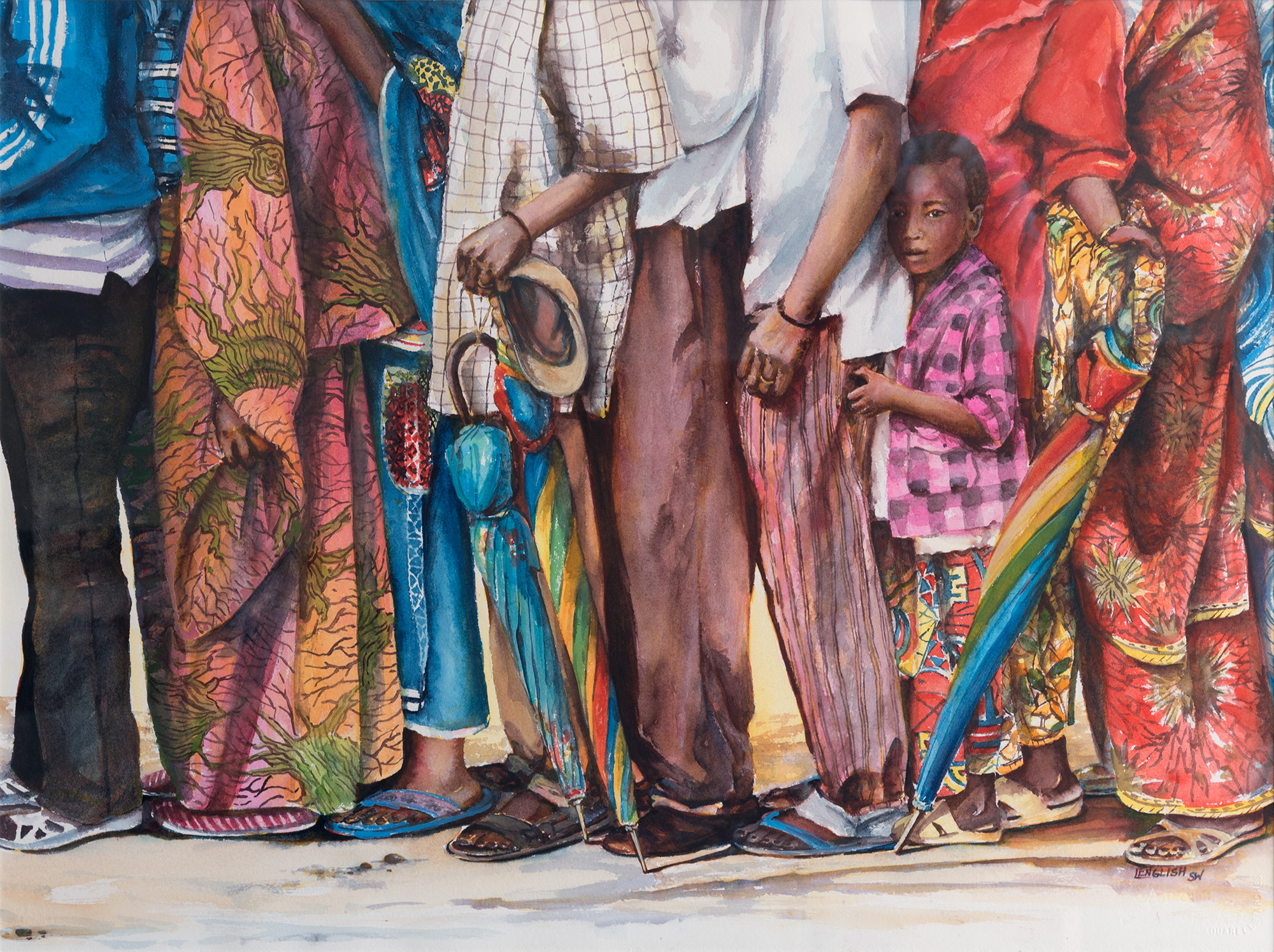 Lynda English
Florence, SC
Through the Eyes of a Child
Watercolor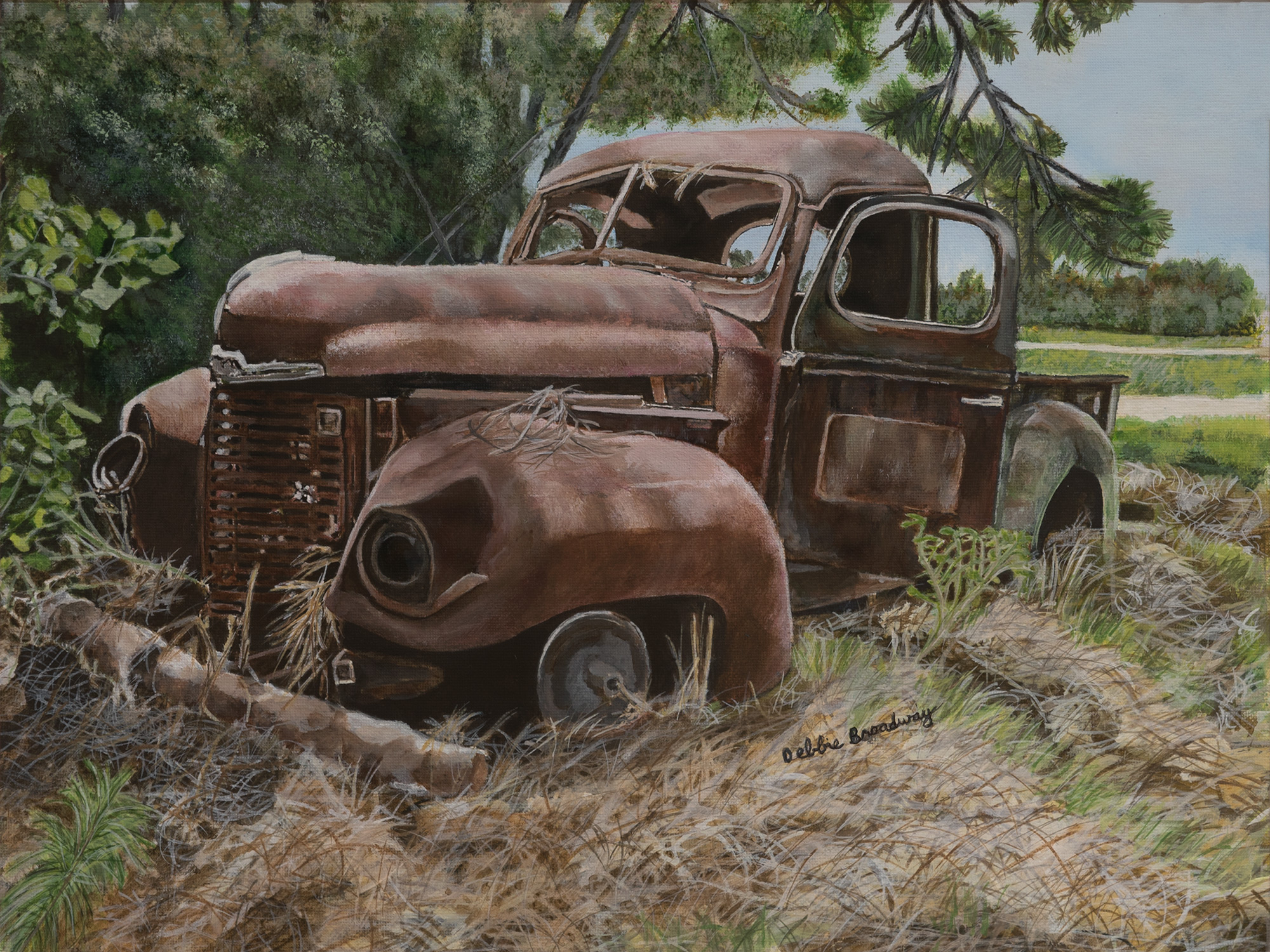 Debbie Broadway
Florence, SC
And So It Was
Acrylic
First let me say it was an honor to be asked to participate as the juror for the 2017 Pee Dee Regional. Over the last few years I have begun to recognize the amount of artistic talent in South Carolina, especially in the Pee Dee, and it was gratifying to see the diversity of entries into this year's competition.
There were many pieces that made the judging thought-provoking. Yvette Cummings' work, When the Magpie Came, created a benchmark for the selection process by demonstrating the best qualities of fundamental skill, aesthetic balance, composition and conceptual strength. The other award-winning works represented equal attention to those artistic principles.
As a teacher, I always encourage my students to apply themselves in all aspects of their art, to make good artistic decisions which will set a standard for themselves that they can aspire to throughout their entire lives.
In my professional life as a comics artist, I am often reminded of the advice of my own teacher, Tyrone Geter, who taught me how important it was to engage in a critique with myself.
Art competitions produce the kind of feedback that is necessary for artistic growth and confidence; let these be teaching moments. Do not be discouraged by others' judgment, but always use the best of your own.
Ashley Arakas
Myrtle Beach, SC
Apprehensive Love
Watercolor on paper
Ashley Arakas
Myrtle Beach, SC
Translucent
Oil on canvas
Jim Boden
Hartsville, SC
Border
Oil and acrylic on canvas
Jim Boden
Hartsville, SC
Harpy
Oil and acrylic on canvas
Jim Boden
Hartsville, SC
Pursue
Oil and acrylic on canvas
Jim Boden
Hartsville, SC
Stilt Walkers
Oil and acrylic on canvas
Debbie Broadway
Florence, SC
And So It Was
Acrylic
Yvette Cummings
Conway, SC
When the Magpie Came
Acrylic on Canvas
Yvette Cummings
Conway, SC
Voyeur Series
Acrylic and hand-cut paper on canvas
Jarrett Davis
Pamplico, SC
Destiny
Acrylic on canvas
Lynda English
Florence, SC
Through the Eyes of a Child
Watercolor
Robert Garey
Florence, SC
Fiddlin'
Oil on linen
Jim Gleason
Pamplico, SC
Baby Dragon Lunch
Found object sculpture
Jim Gleason
Pamplico, SC
Clarigator
Found object sculpture
Jana Goss
Florence, SC
Flame
Mixed media collage
Douglas Gray
Florence, SC
Erasure
Sagger-fired ceramics with encaustic medium
Douglas Gray
Florence, SC
Rift
Sagger-fired ceramics with encaustic medium
Denise Greer
Rembert, SC
Obsessed
Mixed media
Jean Grosser
Hartsville, SC
Open Carry
Wood, brass, nails, fabric, gun replica
Uschi Jeffcoat
Florence, SC
Daughter of Man
Watercolor
Uschi Jeffcoat
Florence, SC
Vainglory
Watercolor
Treelee MacAnn
Myrtle Beach, SC
A Zen Place
28 color serigraph
Claire Sallenger Martin
Supply, NC
Seaside Comics
Mixed watermedia
Julie Mixon
Florence, SC
Eight Not Seven
Photo transfer on wood panel
Julie Mixon
Florence, SC
Monticchiello Surroundings
White marble gelatin fresco image transfer
Chris Richardson
Marion, SC
Homeless
Acrylic on canvas
Walter Sallenger
Florence, SC
Gervais Street Bridge
Black and white infrared photograph
Walter Sallenger
Florence, SC
Sunset, Mount Hope
Black and white infrared photograph
Talbot Selby
Conway, SC
To Burn the Head
Archival pigment print
Jim Stratton
Florence, SC
Poverty at Rest
Oil on canvas
Cat Taylor
Longs, SC
Judas Kiss
Oil on canvas
Genia Tyson
Florence, SC
Channeling Klimt, I
Acrylic
Jaclyn Wukela
Florence, SC
Crying Time
Colored pencil
Jaclyn Wukela
Florence, SC
Toward the Light
Colored pencil
Acceptance of Online Entries
Tue, Oct 4 – Fri, Nov 25, 2016
Juror Selection
Mon, Nov 28 – Fri, Dec 2
Digital Semifinal Acceptance Notification
Mon, Dec 5 – Fri, Dec 9
Delivery of Accepted Works
Tue, Dec 13 – Tue, Dec 20
Juror's Final Review & Awards
Fri, Jan 13 – Sat, Jan 14, 2017
Final Acceptance Notifications
Mon, Jan 16 – Fri, Jan 20
Opening Reception
Thurs, Jan 26
Final Day of Exhibition
Fri, Mar 24
Last Day to Pickup Work
Fri, Apr 21