At the turn of the 20th century, the city of Charleston existed as a shadow of its former glory. The city had historically fostered a distinguished art and architectural heritage during the Colonial & Antebellum periods, but it struggled to continue doing so after the Civil War during Reconstruction. Beginning in the second decade of the 20th century, Charleston experienced a renaissance that flourished largely in part due to the work of authors, architects, artists, poets, & preservationists who rallied behind the common cause of 'the betterment of the city'. Charleston's local art community thrived during this time due to contributions of both native and itinerant artists. Of the various artists associated with the movement, four stand at its forefront: Alfred Hutty, Alice Ravenel Huger Smith, Anna Heyward Taylor, & Elizabeth O'Neill Verner. Smith and Verner were both born & raised in Charleston. Taylor was a native South Carolinian who grew up in the state's capital of Columbia. Hutty migrated each winter to Charleston from the arts community of Woodstock, New York.
Alfred Hutty was born in Grand Haven, Michigan; studied at St. Louis School of Fine Arts; moved to Woodstock, NY in 1907. While in Woodstock, Hutty studied under Birge Harrison, at the Art Students League, and he worked as a stained glass designer for Tiffany Studios. Primarily an oil and watercolor artist, Hutty did not seriously take up etching until he took residence in Charleston in 1919. He quickly absorbed the energy and atmosphere of the city, which inspired much of the art he later became famous for. Shortly after his arrival in Charleston, Hutty served as the first director of the School of the Carolina Art Association. In 1923, a mixed group of nine local artists, which included Hutty, founded the Charleston Etchers Club. It was Hutty who helped the club acquire their own etching press, which they set up at the Charleston Museum. Having the personal endorsement of an artist of Hutty's pedigree helped bring legitimacy to Charleston as a bona fide destination capable of sustaining a community worthy of the accomplished artist.
Another prominent artist involved with Charleston Etchers Club was Alice Ravenel Huger Smith. Alice Smith was born in Charleston South Carolina in 1876. During her early years she studied with Louise Fery at the Carolina Art Association. In 1908, Smith had the fortune of befriending noted Tonalist painter, Birge Harrison. Harrison, the director of the respected Art Student Leagues in Woodstock, New York, had been inspired to visit Charleston by an article he read in Harper's Monthly Magazine. Upon meeting Harrison, Smith offered Harrison space in her family home to serve as his makeshift studio during his winter visit to Charleston. Smith's generosity served as a benefit, as Harrison offered her informal advice regarding her own work from time to time. Harrison's influence is evident in Smith's work with its infusion of Harrison's lyrical tonal style. Smith became an influential personality in the local art community. She immersed herself in art galleries, magazines, local life which informed the course of her artistic career. Her major media were prints and watercolors but she also contributed illustrations to such books as: "The Dwelling Houses of Charleston, South Carolina", "A Woman Rice Planter", & "A Charleston Sketchbook".
Where Smith's work is often described as distinctly indigenous to the region, Anna Heyward Taylor brought the graphic sensibilities of the outside world to her printmaking. Although she worked in oil, watercolor and textiles, her favorite medium was printmaking. Taylor was born in Columbia, South Carolina where she also graduated from the South Carolina College for Women. After which she studied with William Merritt Chase in Europe, and to Provincetown, Massachusetts where she studied the Provincetown Print with B.F.O. Nordfeldt. In 1916, Taylor joined an expedition to British Guiana where she conducted floral studies that were later translated into prints. Taylor didn't return to South Carolina until 1929 when she took residence in Charleston. Here her career thrived while her work did a great deal to promote the allure of the city through the circulation of her illustrated publication, "This Our Land" and the sale of her woodblock prints that documented low country nature and Charleston's women flower vendors.
Elizabeth O'Neill Verner like Alice Smith was a native of Charleston. Having studied under the tutelage of Thomas Anshutz at the Pennsylvania Academy of Fine Arts during her early years, Verner was an amateur artist at the time of the unexpected death of her husband. It was this event that served as the catalyst for her development into one of Charleston's most prolific artists. In 1925 at the age of 42, the widowed Verner understood that she was now the sole means of provision for her two teenage children. As an amateur artist, Verner had been one of the founding members of the Charleston Etchers Club. Verner approached Smith, her friend & mentor, and asked her for guidance in honing her craft so that she could support her family. With contemporaries like Alice Smith and Alfred Hutty, it is no surprise that Verner's medium of choice was printmaking although later in her career she adopted pastels. Verner's work is characterized by an ability to imbue Charleston's native essence into her portrayals of the city that is distinctly identifiable to the local. Verner, like her contemporaries, made use of the vehicle of publication for the distribution of her etchings (e.g. books such as "Prints and Impressions of Charleston" & "Mellowed by Time").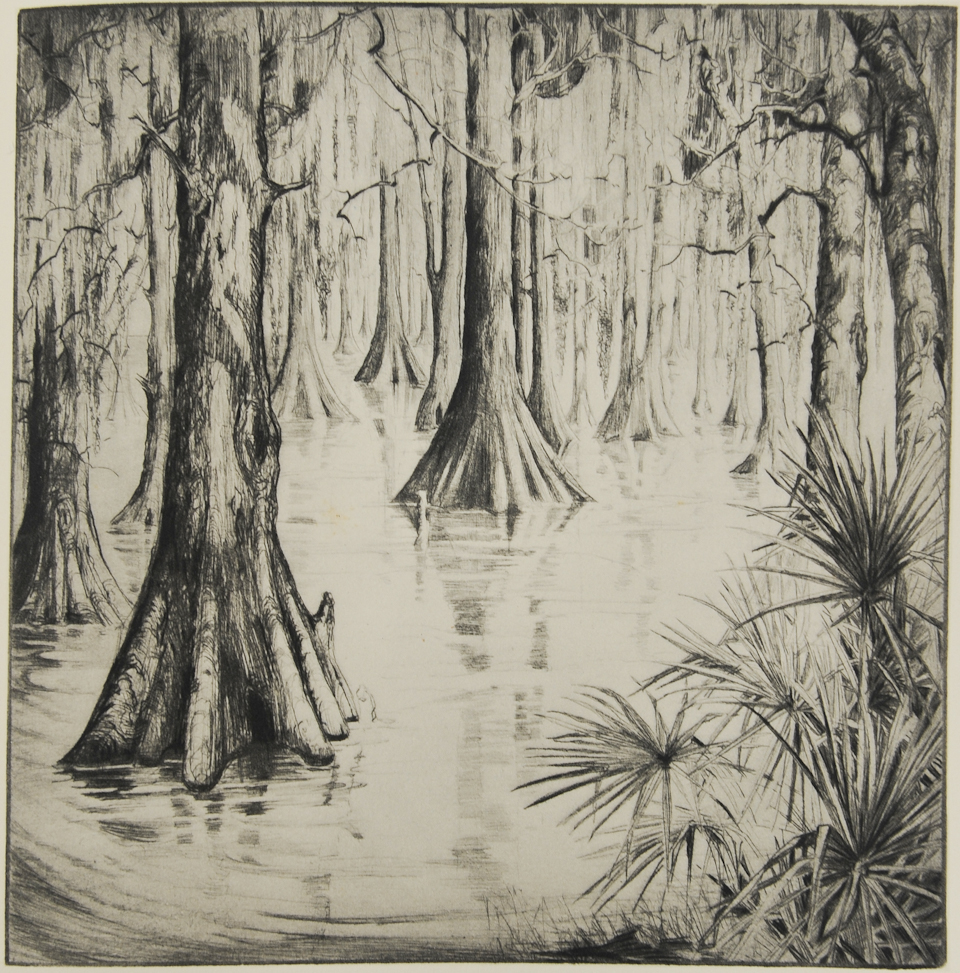 Elizabeth O'Neill Verner
Untitled
etching from "Prints of Charleston"
c. 1939
If you would like to learn more about the Charleston Renaissance, check out the following sources used to help author this post:
Books:
The Charleston Renaissance by Martha R. Severens
Greenville County Museum of Art: The Southern Art Collection by Martha R. Severens
This Our Land by Anna Heyward Taylor
Prints of Charleston by Elizabeth O'Neill Verner